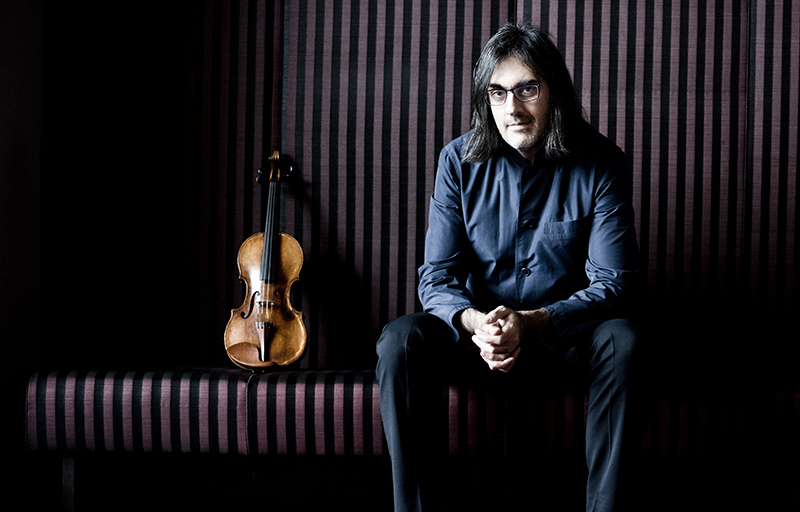 Orchestra of St. Luke's Leonidas Kavakos, violin
All-Bach Program
Sunday August 8, 2021
@
4:00pm
Venetian Theater / $50, $74, $96, $117
Garden Listening / $20
Buy Tickets
Add To Calendar
Overview
Sunday August 8, 2021
@
4:00pm
The Orchestra of St. Luke's closes our official Summer Season with an all J.S. Bach program, led by world-renowned violinist Leonidas Kavakos.
"I doubt if there is more than handful of violinists alive who can match Kavakos in the tonal variety, accuracy and speed of his harmonics, or in the deft alternation of bowing and left-hand pizzicato."
— Gramophone
Artists
Orchestra of St. Luke's
Leonidas Kavakos, violin
Concertos with Kavakos
Violin Concerto in A Minor, BWV 1041
Violin Concerto in E Major, BWV 1042
Violin Concerto in D Minor, BWV 1052R
This concert has been dedicated to the memory of Susan M. Gottsegen. Read more by clicking below.
In Memory of Susan Gottsegen
Caramoor Center for Music and the Arts mourns with the family of Susan McPherson Gottsegen (1945–2020), wife of Caramoor's former Board Chairman, Peter M. Gottsegen. For many years, the Gottsegens have been generous and loyal patrons of Caramoor and we were pleased to honor them both for their service and outstanding generosity to Caramoor at the 2019 Opening Night Gala.
One of the Gottsegens' most recent forms of generosity was a major contribution as part of Inspire: A Campaign for Caramoor's Future to support programming at Caramoor. They are named as generous sponsors of the 2021 Summer Season appearances by the Orchestra of St. Luke's on Sunday, June 27, 2021 and on Sunday, August 8, 2021 with this latter concert being dedicated to the memory of Mrs. Gottsegen.
We are pleased to share the following photos and tribute written by Peter Gottsegen in memory of his beloved wife.
About the Music
At A Glance
Leonidas Kavakos and the Orchestra of St. Luke's present us with an afternoon of music both familiar and new from Johann Sebastian Bach. The violin concertos in A minor and E Major are well-loved staples of the Baroque repertoire. But this concert closes with a stunning surprise: a restoration of the harpsichord concerto in D minor into the lost score of an earlier violin concerto using the same music and key. Longer and more virtuosic than the A-minor and E-Major concertos, it shows off Bach's daring expansion of the standard Baroque concerto practices he'd inherited from Vivaldi.
JOHANN SEBASTIAN BACH
(1685–1750)
Violin Concerto No. 1 in A minor, BWV 1041
About the Composer
In an era when musicians were mere servants either of the church or a princely court, J. S. Bach was an early example of a successful musical entrepreneur whose ambition and talent allowed him to jump rapidly from one post to another in the pursuit of higher earnings and greater artistic challenges. In 1717, he made a bold career move — so bold, in fact, that it landed him in jail. For nine years, he had been music director at the ducal court at Weimar and during that time had become one of the most admired organists and composers of organ music in central Europe. But the small princely court at Cöthen deeply attracted him. Prince Leopold was a cultivated ruler who sang well and played several instruments; as Bach described him, he "not only loved but knew music." He had an accomplished court orchestra of 17 players, and he was willing to pay considerably more than Weimar for Bach's services.
Since Bach had a rapidly growing family (he was eventually to sire 20 children), the generous salary was a strong inducement. On the negative side of the scale was the fact that Cöthen practiced the Calvinist faith, which preached liturgical austerity and reduced music for religious services largely to unaccompanied hymns; Bach would therefore have little opportunity to continue his artistry at the organ. But he would have new challenges of creating a rich secular repertoire for Cöthen's instrumentalists.
All things considered, Bach decided to accept the post at Cöthen. But he had not reckoned on one important detail: the Duke of Weimar refused to release him from his post. When Bach persisted in making plans for his transfer to Cöthen, the Duke threw his stiff-necked employee in prison. But the jail term lasted for only a month before Duke Ernst August finally relented and gave the composer a "dishonorable discharge."
Bach flourished at Cöthen. Inspired by the Italian masters Vivaldi, Corelli, and Torelli, he created many concertos for solo instruments and combinations of instruments, but because these were considered to be one-performance pieces, to be quickly replaced by newer ones, only a few of these have come down to us. Their beauty and craft tantalize us — what other Bach musical treasures have vanished forever?
About the Work
The Violin Concerto in A minor was written for the Cöthen orchestra sometime between 1718 and 1723. It follows the Vivaldian model of three movements: fast-slow-fast. The outer fast movements spring from a strong ritornello theme that is introduced by the ensemble and essentially belongs to them, returning throughout while the soloist presents contrasting material. But in the A-minor's first movement, Bach contrives a smoother melding of soloist and ensemble in which both share the same flowing, melodious ritornello theme, with the soloist embroidering wonderful changes on it.
The slow movement is remarkable for its seriousness and introspection as well as its beauty. A weighty ostinato pattern in the bass provides strong contrast with the violinist's limpid triplet rhythms. Prominent use of the pitch B-flat in the key of C Major — it is the second note we hear — gives a brooding modal feeling. The finale, in dancing gigue rhythm, opens with a dense web of fugal counterpoint. Toward the end, the soloist takes an obsessive repeated-note motive and stretches it to the breaking point, creating exciting tension against the orchestra.
JOHANN SEBASTIAN BACH
Violin Concerto in E Major, BWV 1042
About the Work
More imposing than the predominantly lyrical Concerto in A minor, the very grand Violin Concerto in E Major, BWV 1042 was written around 1720, undoubtedly for the concertmaster of the Cöthen Orchestra, Joseph Spiess. Its expansive first movement follows the familiar style of a Vivaldi fast movement with the orchestra presenting a ritornello (literally, "a little thing that returns") from which the musical material will be largely drawn. The key motif of this refrain is as simple as it can be: the outlining of the E-Major chord in three ascending notes. The soloist then presents contrasting episodes, which carry the music to different keys, while the orchestra keeps breaking in with portions of its refrain. However, Bach enriches this formula by making the movement follow the shape of a da capo aria, with an opening section, a contrasting middle section that passes through many keys, and a repeat of the opening section. And he even gives the sprawling middle section the feeling of a development section by developing fragments of the refrain in the orchestra. In fact, the orchestra here plays an unusually important role for a Baroque solo concerto.
Movement two is a magnificent Adagio in C-sharp minor. It loosely follows the Baroque passacaglia form, in which a somber, almost tragic passacaglia theme played by the cellos underpins most of the music. Above that, the violin sings a poignant lament of heartbreaking beauty. Much lighter and shorter than the preceding movements, the finale is a charming dance in three beats built around a courtly refrain for the orchestra.
JOHANN SEBASTIAN BACH
Violin Concerto in D minor, BWV 1052r
About the Work
For lovers of Bach's keyboard music, the Violin Concerto in D minor, BWV 1052r will sound very familiar, for this is the music of his beloved Harpsichord Concerto No. 1 in D minor that launches the definitive collection of his keyboard concertos he prepared in 1738. However, based on many passages in that concerto that suggest violin techniques in the soloist's part, Bach scholars have long believed that this work began life as a violin concerto. As mentioned earlier, in his period at the Cöthen court Bach created many concertos for a variety of instruments, which have since been lost. Surely there were many more Bach violin concertos written than the two we have now, plus the famous Concerto for Two Violins in D minor, BWV 1043.
Throughout his career, Bach freely rearranged musical pieces when a new situation and new instrumental forces demanded it. For example, all three movements of this concerto were also used in two of his cantatas, with voices and texts added. And the choice of a harpsichordist (today, usually a pianist) as soloist in BWV 1052 was probably made for the Collegium Musicum concerts Bach directed in Leipzig during the 1720s and 1730s, in which he needed new pieces to showcase his virtuoso keyboard skills. Therefore, Bach scholars have felt free to work backwards and reconstruct the lost violin concerto that may have been the Harpsichord Concerto in D minor's predecessor.
Listed as BWV 1052r, this Violin Concerto in D minor is a formidable and dramatic work that requires far more technical virtuosity and stamina from the violinist than do the A-minor and the E-Major. And it shows Bach elaborating on the traditional ritornello form in his first and last movements and even giving hints of the classical sonata form to come later in the century. The esteemed British annotator Donald Francis Tovey called it "the greatest and most difficult violin concerto before the time of Beethoven."
Drawing on the stormy power associated with the key of D minor during the 18th century, the Allegro first movement launches a fiery ritornello theme, full of leaps and twisty syncopated rhythms, played by the whole ensemble in unison. The soloist then jumps in with a brilliant, toccata-like improvisation on elements of the ritornello theme. These solo flights grow more elaborate and virtuosic, urged on by contributions from the ensemble violins, as the piece progresses. The middle section of the movement presents vigorous developments on figures from the ritornello that border on sonata-form practice. A spectacular cadenza near the end rivals the virtuoso displays of 19th-century concertos.
Clinging to the minor mode, the Adagio second movement is a grieving aria for violin in G minor. The lugubrious ritornello theme, played unison in low register, sets the mood of tragedy, then continues, passacaglia-like, in fragments beneath the violin's glorious, long-breathed song of sorrow. A final full return of the ritornello seals this movement of quiet, but intense expressiveness.
Returning to the first movement's high energy, the finale's ritornello theme is launched by a downward hurtling gesture in the ensemble. This gesture and other fragments will be taken up in playful developments by the soloist, and as the movement continues, this becomes an extended development section for everyone, fueled by call-and-answer counterpoint.
The excitement culminates in yet another lengthy solo cadenza of testing virtuosity. Only suitable for those violinists capable of meeting Bach's highest technical and expressive demands, this Concerto is a welcome gift to violinists and audiences alike.
— Janet E. Bedell
About the Artists
Leonidas Kavakos, violin
Leonidas Kavakos is recognized across the world as a violinist and artist of rare quality, acclaimed for his matchless technique, his captivating artistry and his superb musicianship as well as for the integrity of his playing. He works with the world's greatest orchestras and conductors and plays as recitalist in the world's premier recital halls and festivals. He is an exclusive recording artist with Sony Classical.
The three important mentors in his life have been Stelios Kafantaris, Josef Gingold, and Ferenc Rados, with whom he still works. By the age of 21, Leonidas Kavakos had already won three major competitions: the Sibelius Competition in 1985, and the Paganini and Naumburg competitions in 1988. This success led to him recording the original Sibelius Violin Concerto (1903/4), the first recording of this work in history, and which won Gramophone Concerto of the Year Award in 1991.
Kavakos is now an exclusive recording artist with Sony Classics. His latest recording, to be released worldwide in October 2019 in anticipation of the 250th anniversary of Beethoven's birth in 2020, is the Beethoven Concerto which he conducted and played with the Bavarian Radio Symphony Orchestra, coupled with the Beethoven Septet played with members of the orchestra. In the anniversary year, Kavakos will both play and play/conduct the Beethoven concerto with orchestras across Europe and the USA. He will also play the complete Beethoven Sonata cycle in Shanghai and Guangzhou, Milan and Rome, and a number of single Beethoven recitals in various cities including London's Wigmore Hall, Barcelona, Parma and Copenhagen.
In 2007, for his recording of the complete Beethoven Sonatas with Enrico Pace, Kavakos was named Echo Klassik Instrumentalist of the year. In 2014, Kavakos was awarded Gramophone Artist of the Year.
Further accolades came in 2017 when Kavakos was awarded the prestigious Leonie Sonning Prize – Denmark's highest musical honour, given annually to an internationally recognised composer, condcutor, instrumentalist or singer. Previous winners include Daniel Barenboim, Leonard Bernstein, Pierre Boulez, Alfred Brendel, Benjamin Britten, Dietrich Fischer-Dieskau, Yehudi Menuhin, Sir Simon Rattle, Mstislav Rostropovich, Arthur Rubenstein and Dmitri Shostakovich.
August 2019 was a full and rewarding month: after the Verbier Festival where he appeared in recital with Evgent Kissin and conducted the Verbier Festival Chamber Orchestra in a programme in which he played Mozart's Sinfonia Concertante with Antoine Tamestit, he joined YoYo Ma and Emanuel Ax at the Tanglewood Music Festival for a programme of Beethoven Piano trios, in a duo recital with Ax of Beethoven Sonatas, and in an orchestral concert with the Boston Symphony in which he played and conducted Beethoven's Violin Concerto and Dvorak Symphony No. 7.
Kavakos was also invited as "Artiste Etoile" at the Lucerne Festival where he appeared with the Lucerne Festival Orchestra with Yannick Nezet-Seguin, Mariinsky Orchestra with Valery Gergiev, Vienna Philharmonic with Andes Orozco Estrada, and in recital with Yuja Wang.
In the 2019/20 season, in addition to concerts with major orchestras in Europe and the United States, Leonidas Kavakos will one again join YoYo Ma and Emanuel Ax for three programmes in Carngie Hall comprising Beethoven trios and sonatas. He will undertake two Asian tours, first as soloist with the Singapore Symphony and Seoul Philharmonic and in recital in the NCPA Beijing, and then in the spring he performs with the Hong Kong Philharmonic and Taiwan National Symphony Orchestra, prior to playing Beethoven Sonata Cycles in Shanghai and Guangzhou with Enrico Pace.
In recent year, Leonidas Kavakos has succeeded in building a strong profile as a conductor and has conducted the London Symphony Orchestra, New York Philharmonic, Houston Symphony, Dallas Symphony, Gürzenich Orchester, Budapest Festival Orchestra, Vienna Symphony, Chamber Orchestra of Europe, Orchestra dell'Accademia Nazionale di Santa Cecilia, Maggio Musicale Fiorentino, Filarmonica Teatro La Fenice, and the Danish National Symphony Orchestra. In the forthcoming season he will return to two orchestra where he has developed close ties as both violinist and condcutor: L'Orchestre de la Suisse Romande and L'Orchestre Philharmonique de Radio France. This season he also play/conducts theCzech Philharmonic, Deutsches Symphonie-Orchester Berlin, and the Orchestra Sinfonica Nazionale della RAI.
Born and brought up in a musical family in Athens, Kavakos curates an annual violin and chamber-music masterclass in Athens, which attracts violinists and ensembles from all over the world and reflects his deep commitment to the handing on of musical knowledge and traditions. Part of this tradition is the art of violin and bow-making, which Kavakos regards as a great mystery and to this day, an undisclosed secret. He plays the 'Willemotte' Stradivarius violin of 1734 and owns modern violins made by F. Leonhard, S.P. Greiner, E. Haahti and D. Bagué.
Orchestra of St. Luke's
Orchestra of St. Luke's (OSL) grew from a group of virtuoso musicians performing chamber music concerts at Greenwich Village's Church of St. Luke in the Fields in 1974. Now in its 45th season, the Orchestra performs diverse musical genres at New York's major concert venues, and has collaborated with artists ranging from Renée Fleming and Joshua Bell to Bono and Metallica. In 2018 internationally celebrated expert in 18th-century music Bernard Labadie became OSL's Principal Conductor, continuing the Orchestra's long tradition of working with proponents of historical performance practice.
OSL's signature programming includes a subscription series presented by Carnegie Hall, now in its 32nd season; the OSL Bach Festival at Carnegie Hall, Manhattan School of Music's Neidorff-Karpati hall, and at the DiMenna Center for Classical Music each June; a chamber music series featuring appearances at The Morgan Library & Museum, Brooklyn Museum, and Merkin Hall at Kaufman Music Center; and a summer residency at Caramoor Center for Music and the Arts. The Orchestra has participated in 118 recordings, four of which have won Grammy Awards, has commissioned more than 50 new works, and has given more than 175 world, U.S., and New York City premieres.
Nearly half of OSL's performances are presented free of charge through its Education & Community program, which reaches over 11,000 New York City public school students each year with school-time concerts. Youth Orchestra of St. Luke's (YOSL) provides free instrumental coaching, the Chamber Music Mentorship Program provides professional development opportunities and workshops for pre-professional musicians.
OSL built and operates The DiMenna Center for Classical Music in Hell's Kitchen, New York City's only rehearsal, recording, education, and performance space expressly dedicated to classical music. The DiMenna Center serves more than 500 ensembles and more than 30,000 musicians each year.
All artists and dates are subject to change and cancellation without notice as we work closely with local health experts and officials. Please note that all performances at Caramoor are in compliance with current New York State Regulations. Read our latest Health & Safety updates.
Related Events