Program Information
Eilen Jewell
Saturday May 14, 2022 at 8:00pm
---
This program does not include an intermission and is approx. 80 minutes in length.
---
About the Artist
Eilen Jewell
American Songwriter describes Eilen Jewell as one of America's most intriguing, creative, and idiosyncratic voices. The Boise, Idaho songwriter leads a tight quartet that blends influences of surf-noir, early blues, classic country, folk, and 1960s era rock 'n' roll. For well over a decade, they've toured relentlessly for legions of fans from Boston to Boise and Madrid to Melbourne, playing large festivals, theaters, rock clubs, and coffeehouses. The group has shared stages with the likes of Lucinda Williams, Loretta Lynn, Mavis Staples, Wanda Jackson, George Jones, Emmylou Harris, and Blind Boys of Alabama. Jewell's fans have marveled at her warmth and onstage humor alongside her beautiful songs and fiery performances. In addition to six of her own full-length albums, Jewell has released two albums with her country-gospel side project, The Sacred Shakers: a tribute album to Loretta Lynn titled Butcher Holler and a recent album of rare blues covers, Down Hearted Blues. As The Los Angeles Daily News declared, "Sometimes as darkly damaged as Lucinda Williams, at others as defiant and teasing as prime Peggy Lee and always authentically Americana in the Gillian Welch tradition … She's mighty good."
To learn more about Eilen Jewell, visit her website and follow her on Facebook.
---
Concert Sponsors
The Music Room theatrical lighting was a generous gift from Adela and Lawrence Elow.
Caramoor is proud to be a grantee of ArtsWestchester with funding made possible by Westchester County government with the support of County Executive George Latimer.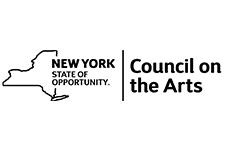 Caramoor's programming is made possible, in part, by the New York State Council on the Arts with the support of the Office of the Governor and the New York State Legislature.
---
Concert Policies
No photography or video / audio recording permitted.
Silence all mobile devices and alarms.
Wear a mask unless eating or drinking.
---
Have extra time before the concert?
Read an article, tour the Rosen House, or experience our Sound Art. There is much to enjoy at Caramoor!