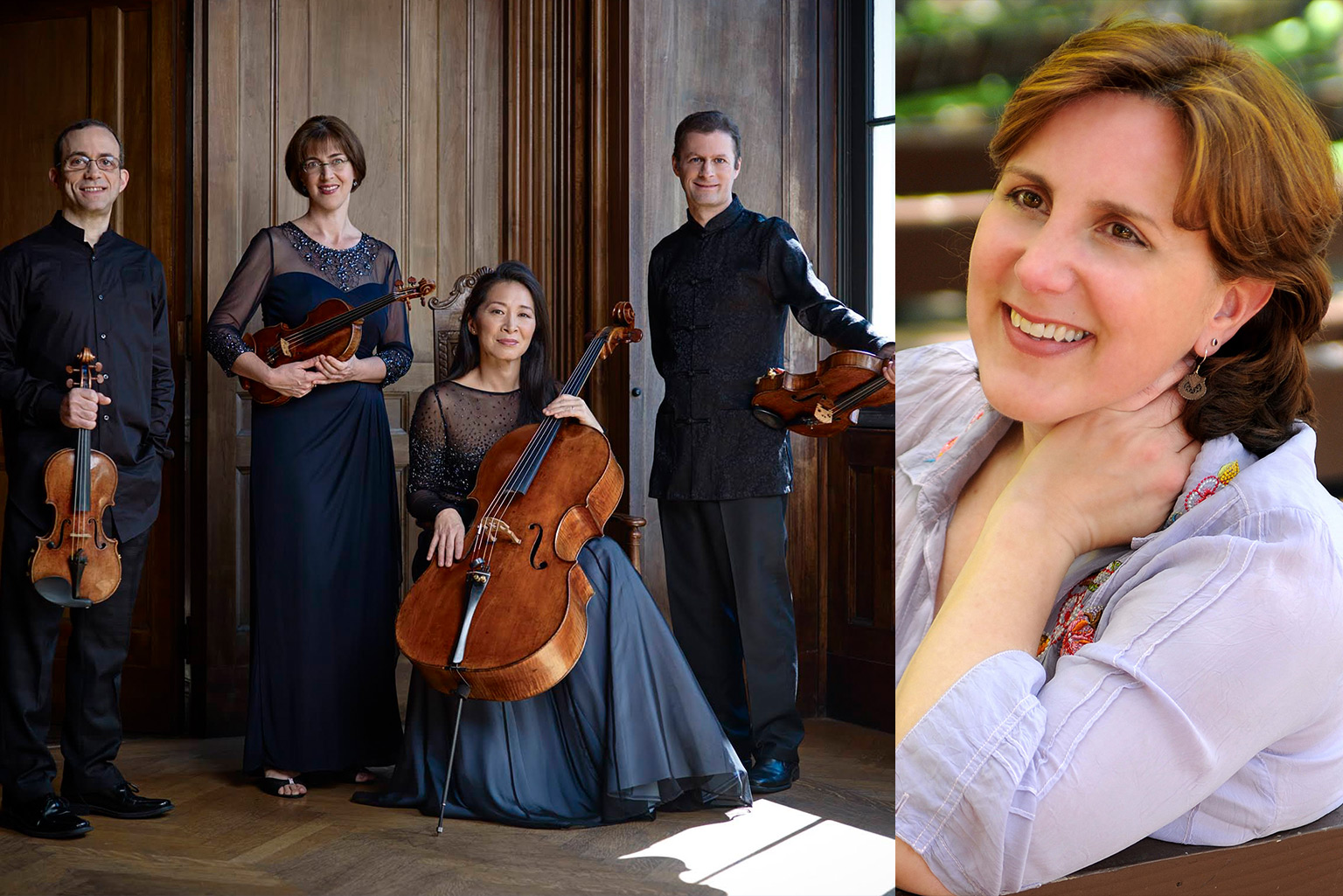 Brentano Quartet
Dawn Upshaw, soprano
Dido Reimagined
Friday July 15, 2022
at
8:00pm
Adults / $40, $55, $70, $85
Children / 50% Off Select Tickets
Buy Tickets
Add To Calendar
Overview
Friday July 15, 2022
at
8:00pm
7:00pm / Join us for a conversation with Brentano violinist Mark Steinberg and composer Melinda Wagner.
The Brentano String Quartet and soprano Dawn Upshaw join forces for this special evening. Early English work will flow toward the famous Lament from Purcell's opera Dido and Aeneas, in which Dido confesses an intensely intimate plea to a friend. After intermission, composer Melinda Wagner and librettist Stephanie Fleischmann breathe new life into Dido, imagining her psyche, her vulnerability, and her strength. This unique monodrama will probe a truly compelling character through the concentrated closeness of the chamber music experience.
---
"Upshaw's instrument has the kind of power, clarity, and pure beauty that can transfix a listener."
— The Pioneer Press
---
Program
Henry Purcell: Oh, let me weep; Fantasias No. 5 and 7
Matthew Locke: Suite No. 2
John Dowland: Come again, sweet love doth now invite; Can she excuse my wrongs; Weep you no more, sad fountains
Thomas Tomkins: Aleman
William Byrd: Though Amaryllis Dance in Green
Robert Johnson: The Witty Wanton
Henry Purcell: When I am laid in earth (Dido's lament)
Melinda Wagner: Dido Reimagined
Artists
Brentano String Quartet
Mark Steinberg, violin
Serena Canin, violin
Misha Amory, viola
Nina Lee, cello
Dawn Upshaw, soprano
About the Artists
Brentano Quartet
Since its inception in 1992, the Brentano String Quartet has appeared throughout the world to popular and critical acclaim. "Passionate, uninhibited and spellbinding," raves the London's The Independent; The New York Times extols its "luxuriously warm sound [and] yearning lyricism."
Within a few years of its formation, the Quartet garnered the first Cleveland Quartet Award and the Naumburg Chamber Music Award and was also honored in the U.K. with the Royal Philharmonic Award for Most Outstanding Debut. Since then, the Quartet has concertized widely, performing in the world's most prestigious venues, including Carnegie Hall in New York; the Library of Congress in Washington; the Concertgebouw in Amsterdam; the Konzerthaus in Vienna; Suntory Hall in Tokyo; and the Sydney Opera House.
In addition to performing the entire two-century range of the standard quartet repertoire, the Brentano Quartet maintains a strong interest in contemporary music, and has commissioned many new works. Their latest project, a monodrama for quartet and voice called Dido Reimagined, was composed by Pulitzer-winning composer Melinda Wagner and librettist Stephanie Fleischmann and premiered in spring 2022 with soprano Dawn Upshaw. Other recent commissions include the composers Matthew Aucoin, Lei Liang, Vijay Iyer, James Macmillan, and a cello quintet by Steven Mackey (with cellist Wilhelmina Smith).
The Brentano Quartet has worked closely with other important composers of our time, among them Elliot Carter, Charles Wuorinen, Chou Wen-chung, Bruce Adolphe, and György Kurtág. They have also been privileged to collaborate with such artists as soprano Jessye Norman, mezzo-soprano Joyce DiDonato, and pianists Richard Goode, Jonathan Biss, and Mitsuko Uchida. The Quartet has recorded works by Mozart and Schubert for Azica Records, and all of Beethoven's late Quartets for the Aeon label. In 2012, they provided the central music (Beethoven Opus 131) for the critically-acclaimed independent film A Late Quartet.
Since 2014, the Brentano Quartet has served as Artists-in-Residence at the Yale School of Music. They were formerly the Ensemble-in-Residence at Princeton University, and were twice invited to be the collaborative ensemble for the Van Cliburn International Piano Competition.
The Quartet is named for Antonie Brentano, whom many scholars consider to be Beethoven's "Immortal Beloved," the intended recipient of his famous love confession.
To learn more about the Brentano String Quartet, please visit their website.
Dawn Upshaw, soprano
Joining a rare natural warmth with a fierce commitment to the transforming communicative power of music, Dawn Upshaw has achieved worldwide celebrity as a singer of opera and concert repertoire ranging from the sacred works of Bach to the freshest sounds of today. Her ability to reach the heart of music and text has earned her both the devotion of an exceptionally diverse audience, and the awards and distinctions accorded to only the most distinguished of artists. In 2007, she was named a Fellow of the MacArthur Foundation, the first vocal artist to be awarded the five-year "genius" prize, and in 2008, she was named a Fellow of the American Academy of Arts & Sciences.
Her acclaimed performances on the opera stage comprise the great Mozart roles as well as modern works by Stravinsky, Poulenc, and Messiaen. From Salzburg, Paris, and Glyndebourne to the Metropolitan Opera, where she began her career in 1984 and has since made nearly 300 appearances, Upshaw has also championed numerous new works created for her including The Great Gatsby by John Harbison; the Grawemeyer Award-winning opera, L'Amour de Loin and oratorio La Passion de Simone by Kaija Saariaho; John Adams's Nativity oratorio El Niño; and Osvaldo Golijov's chamber opera Ainadamar and song cycle Ayre.
She is the Head of the Vocal Arts Program at the Tanglewood Music Center and was the founding Artistic Director of the Vocal Arts Program at the Bard College Conservatory of Music.
A five-time Grammy Award winner, Upshaw is featured on more than 50 recordings, including the million-selling Symphony No. 3 by Henryk Gorecki for Nonesuch Records.
Upshaw holds honorary doctorate degrees from Yale, the Manhattan School of Music, The Juilliard School, Allegheny College, and Illinois Wesleyan University. She began her career as a 1984 winner of the Young Concert Artists Auditions and the 1985 Walter W. Naumburg Competition, and she was a member of the Metropolitan Opera Young Artists Development Program.
Upshaw has recorded extensively for the Nonesuch label in addition to other labels.
Melinda Wagner, composer
Hailed as an "… eloquent, poetic voice in contemporary music …" (American Record Guide), Melinda Wagner achieved widespread attention when her colorful Concerto for Flute, Strings, and Percussion was awarded the Pulitzer Prize in Music in 1999. Since then, major compositions have included her Concerto for Trombone and Orchestra, for Joseph Alessi and the New York Philharmonic, and a piano concerto, Extremity of Sky, commissioned by the Chicago Symphony for Emanuel Ax, who has also performed it with the National Symphony Orchestra, the Toronto Symphony, the Staatskapelle Berlin, and the Kansas City Symphony. In all, the Chicago Symphony Orchestra has commissioned three works by Wagner: Falling Angels, Extremity of Sky, and a new work, Proceed, Moon, which received its premiere under the baton of Susanna Mälkki in 2017. Other recent commissions include Elegy Flywheel, composed for the New York Philharmonic's Project 19 series, and Dido Reimagined, for Dawn Upshaw and the Brentano String Quartet.
Wagner's works have been performed by many leading ensembles, including the Philadelphia Orchestra, American Brass Quintet, the American Composers Orchestra, the Boston Modern Orchestra Project, and the Philadelphia Chamber Music Society. She has received a Guggenheim Fellowship and awards from the American Academy of Arts and Letters and ASCAP, among other honors. A passionate teacher, Wagner is currently Chair of the Department of Composition at The Juilliard School.
To learn more about Melinda Wagner, please visit her website.
Stephanie Fleischman, librettist
Stephanie Fleischmann is a librettist and playwright whose texts serve as blueprints for intricate three-dimensional sonic and visual worlds. Her "lyrical monologues" (The New York Times), "smart" opera libretti (Opera News), plays, and music-theater works have been performed internationally and across the United States. Upcoming performances of her libretti include In a Grove with the Pittsburgh and Los Angeles Operas, and The Pigeon Keeper with Santa Fe Opera. Her opera work has been premiered by opera companies including Wien Moderne, Vienna, ZeitRäume Basel, Opera Saratoga, and Chicago Lyric Unlimited. She has received numerous grants and fellowships from such institutions as Café Royal Cultural Foundation, Virginia B. Toulmin Foundation, Venturous Theater Fund, Howard Foundation Fellowship, New York Foundation for the Arts, and Opera America. 
To learn more about Stephanie Fleischmann, please visit her website.
To learn more about our Health & Safety policies, please click here.
Related Events